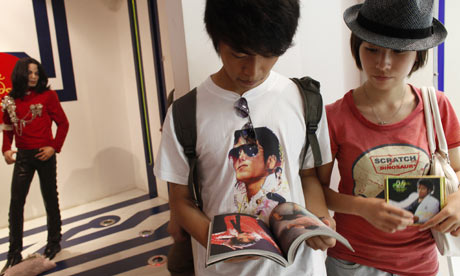 Jiang Xiaoyu and Xing Han subsisted on a diet of coffee and cigarettes to produce the 130,000-word Moonwalk in Paradise, which they claim is the fastest biography written since the King of Pop's death on 25 June. It was available in shops in China on Saturday 4 July, just nine days after Jackson's death.

He said the book was an accumulation of information gathered over many years as one of Jackson's fans, plus some information he found on the internet. He admitted that some of the details might be inaccurate due to time constraints.
Ummm...yeah. I'll think pass on a book that was written in 2 days and the information was taken from the internet. I could just print out Michael Jackson's Wikipedia page for all of that.
Source