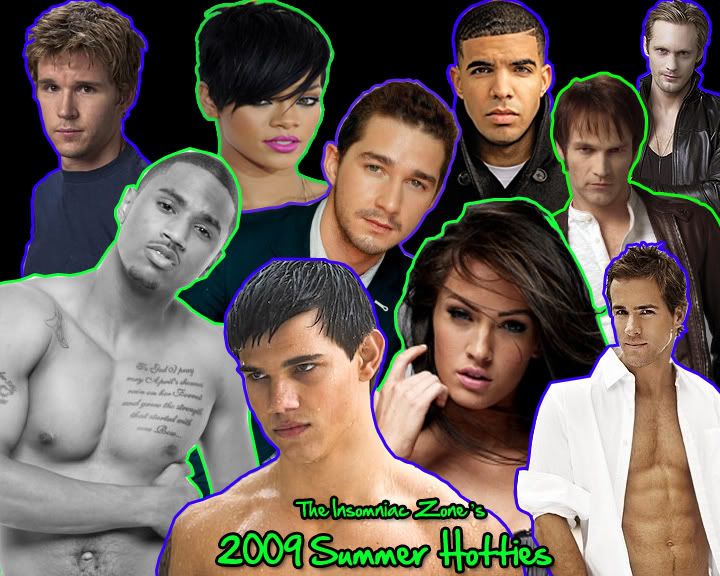 The staff over at Entertainment Weekly created their own lists of Things That Are Hot, so I decided to create my own list of 2009 Summer Hotties:

1. Taylor Lautner, 'New Moon': Maybe it's the 30 lbs of muscle he gained to keep his role or just the fact he's getting a little older, but Taylor has evolved into the Jacob Black I imagined as I read the Twilight books. Too bad he's only 17...

2. Eric Northman (Alexander Skarsgard), 'True Blood': Eric is the ultimate bad boy and he just gets hotter and hotter every episode! I'm pretty sure by the season finale, he's just going to spontaneously explode from hotness.

3. Bill Compton (Stephen Moyer), 'True Blood': There's just something about Bill. I think it may be his antiquated way of speech or just the whole tortured soul thing, but he definitely gives Edward Cullen a run for his money.

4. Jason Stackhouse (Ryan Kwanten), 'True Blood': He may be an idiot but at least he's an adorable one. His loyalty to Sookie and the way he's been the hero of the last two episodes makes him even more attractive. And have you seen that body?! *swoons*

5. Drake: Whether he was appearing on songs with some of the biggest names in the game, re-injuring his knee on tour, or taking the heat from that interesting "Best I Ever Had" video, Drake kept everyone buzzing this summer.

6. Trey Songz: No one seems to have more control over the women of Twitter than Trey Songz. Whether he's dropping sexy mixtapes, on UStream or creating new trending topics, Trey Songz has everyone Ready for his next album.

7. Megan Fox, 'Transformers 2': No "Hot List" is complete without a Megan Fox mention. Why? Because she is, indeed, hot. Even robots can't resist humping her.

8. Shia LaBeouf, 'Transformers 2': I know I wasn't the only one wondering what happened to the goofy little kid from Even Stevens as they watched Transformers. He has grown up quite nicely.

9. Rihanna: Putting all the drama aside, Rihanna has remained prominently on the scene, turning every photo op into a fashion event. Even though it seems like her job is to party and model clothes, she's supposedly in the process of recording an "epic" album...in between drinks and wardrobe changes.

10. Ryan Reynolds, 'Wolverine' and 'The Proposal': Ryan Reynolds was all over the place this summer, bringing his good looks, hot body, and ridiculous sense of humor to each role. Scarlett Johannson is a lucky woman. Alanis Morissette is probably a very bitter one.

Honorable mention:
Rachel McAdams, 'The Time Traveler's Wife': I think Rachel McAdams is the white Stacey Dash. She just never seems to age! She did her thing in The Time Traveler's Wife...which is to make me cry. Damn these sad romantic movies she plays in and her good acting skills!

So who made it onto your Summer Hotties list??